One Door Polk Network partners (from left): Jason Beardon, CEO, Highland Rivers; Sandy Matheson, community liaison, Primary Healthcare Centers; Kathleen Varda, director of Strategy and Business Development, Highland Rivers; Bill Fann, Cedartown city manager; Diana Allen, CEO, Primary Healthcare Centers; and Rhonda Heuer, executive director, Polk Family Connection
The City of Cedartown is positioned to become a model throughout Georgia and the nation regarding resourceful combination of key social and health services through the creation of a landmark concept called "One Door Polk Network."
One Door Polk, established by the City of Cedartown, in collaboration with Floyd Medical Center, Primary Healthcare Centers, Polk Family Connection, Cedartown-Polk County Hospital Authority and Highland Rivers Health, is poised to offer a full spectrum of social services under one roof in the heart of downtown Cedartown.
Planned for location at 424 North Main Street in Cedartown, One Door Polk will occupy the building that will be left vacant by the county's current hospital, Polk Medical Center. The hospital is slated to move to its new location on US Hwy. 278 in the fall of 2014.
Polk involved in Child Abuse Prevention Month, vigil set for April 23
by Agnes Hagin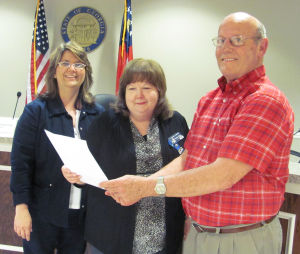 Photo by Agnes Hagin, Polk Standard JournalChild Abuse Awareness Month
Rhonda Heuer of Polk Family Council, middle, accepts proclamation from Chairman Marshelle Thaxton of the Polk County Board of Commissioners after the group declared April as Child Abuse Awareness Month. Standing left is Jennifer Hulsey, a local advocate
Polk County Takes on Grade Level Reading Challenge with Multi-Faceted Strategy
January 20 2014 –
Countless studies have shown that reading proficiency by third grade is the most significant predictor of high-school graduation and career success. Not one of the most—the most. It is at this crucial juncture in elementary school when a child transitions from learning to read to reading to learn, and if the student isn't reading on grade level before entering the fourth grade, the consequences can be long term and significant. In Georgia, that translates to nearly 70 percent of students who are at risk of failing or dropping out of school.
Eleven Family Connection Collaboratives Team up to Improve Indicators of Child and Family Well-Being
October 01 2013 –
Diana St. Lifer
Low birthweight, childhood obesity, and a literacy gap are serious threats to the well-being of Georgia's families and children. Recognizing the impact these pressing issues have on the state's health, safety, and ability to prosper, Georgia Family Connection Partnership has launched three initiatives dedicated to developing and implementing strategies that address these key indicators.